Festivals and Events 祭り・イベントの紹介
Over the ages, people in Tsuchiura have fostered friendliness and hospitality, and now celebrate many traditional festivals and unique events. Share the enthusiasm with us.
Firemen's Exhibition

(early January, Civic Hall and Tsuchiura Port)
消防出初式
A new year's event presented by local firemen. The traditional songs and acrobatic performances attract many people. At the end of the event, 50 fire engines and helicopters discharge tons of water and amaze the audience.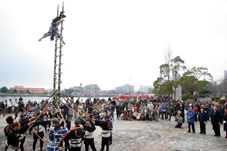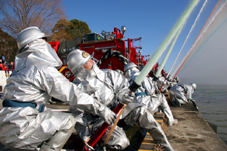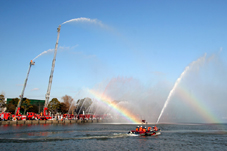 People bring items used to welcome in the new year, and burn them to pray for good health throughout the year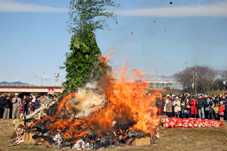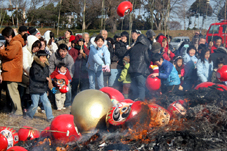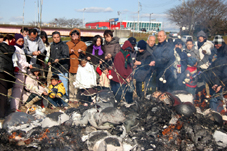 Various events are held and different kinds of hina dolls are exhibited, including those inherited from the merchant families ofthe Edo and Meiji periods, handmade hanging dolls made of colorful crepe fabrics, and dolls made from the lotus seed cup, a specialty of Tsuchiura.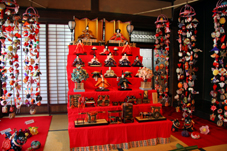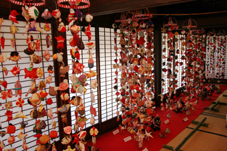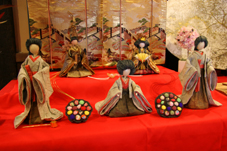 Flowers which have been lovingly cared for by farmers are exhibited. The event, celebrating the arrival of spring, features a flower show, a flower sale, and a flower arrangement exhibition, and charity bouquets are made up.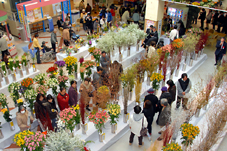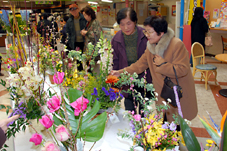 Cherry Blossom Festival

(late March to early April, Kijo Park and other sites)
土浦桜まつり
There are many places throughout the city where you can enjoy the pale pink cherry blossoms and smell the subtle fragrance of the flowers, including Kijo Park,
Ottonuma Park, Sakuragawa River, Shinkawa River, Manabe
Elementary
School
, and Ryugamine. During the festival, some of these places are illuminated and various events are held, attracting many people

.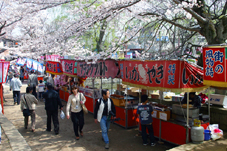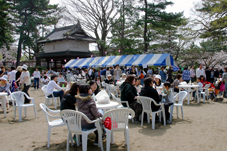 Yabusame

(horseback archery) Festival

(1st Sunday in April, Hie Shrine, Tojoji, Onosawabe, Tsuchiura)
流鏑馬まつり
The horseback archery festival is deemed a prefectural intangible cultural property, and is one of the three big yabusame of the Sanno school in Japan. The festival is intended to rid the area of monkeys and to bring a good harvest and peace. While riding on horseback, a rider in armor shoots an arrow at a target which represents a monkey. Many people come to see this martial event every year.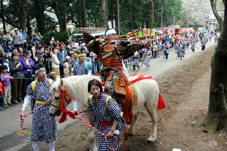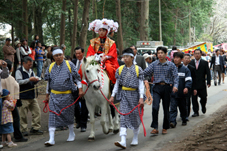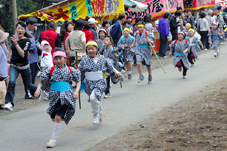 Kasumigaura Marathon and International Blind Marathon (3rd Sunday in April,Kawaguchi Sports Park) かすみがうらマラソン 兼 国際盲人マラソン
The Kasumigaura Marathon, with the theme of "Revitalize Kasumigaura: Water is essential for sports", is held annually. There are three courses along the lake: full marathon, 10 miles (16.09 km), and 5 km. The International Blind Marathon in Kasumigaura, the first marathon in Japan authorized by the International Blind Sports Federation, is held at the same time. Part of the registration fee is donated to clean up Lake Kasumigaura and to support guide dogs for the blind.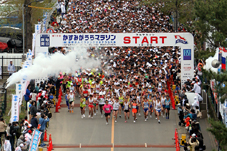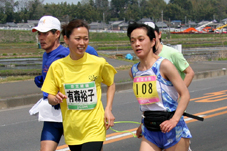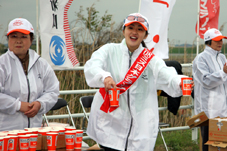 Walk Rally

(mid-May,

Kawaguchi

Sports Park

)
市民ウオークラリー
Starting from Kawaguchi Sports Park, participants walk in search of check points marked on a map, and take part in games and a quiz. Along the way, they can learn the history of Tsuchiura or discover new aspects of the city.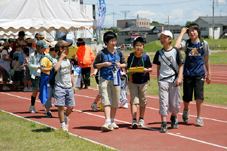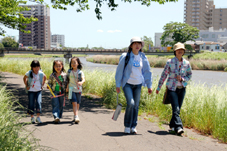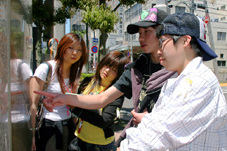 Sightseeing Hobikisen (Saturdays, Sundays, and national holidays from mid-July to mid-October)
観光帆曳船
The hobikisen, a beautifully shaped boat sailed on Lake Kasumigaura, is a summer feature of Tsuchiura. Designed in 1880, the hobikisen was originally used for fishing. Its large white sail, measuring 9 m high by 16 m wide, propels it to draw the fishing net. In 1967, trawlers replaced the hobikisen for fishing, but the hobikisen are now a popular tourist attraction, and can be seen from other tour boats and Kasumigaura Comprehensive Park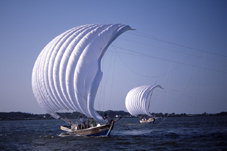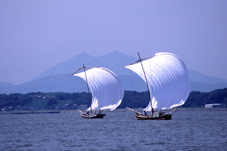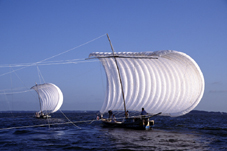 Tsuchiura Gion Festival

(late July)
土浦祇園まつり
Portable shrines weighing up to 1200 kg and showy floats are carried throughout the city, and residents and a legendary lion parade through the streets to the sounds of festive traditional music. On the final day of the festival, the enthusiasm reaches its peak with flute and drum performances and lion and fox dances.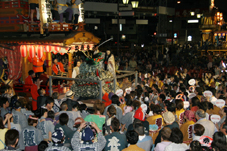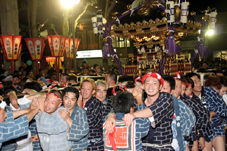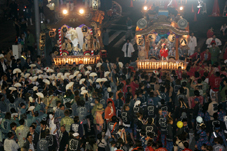 The Tsuchiura Kirara Festival, celebrating Lake Kasumigaura and the legend of the two bright stars, Altair (a cowherd) and Vega (a weaver), gathers many people to the main street, starting from Tsuchiura Station. Events include a parade, the tanabata (star festival) dance, folksong dances, and parades of floats and portable shrines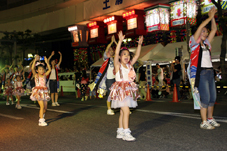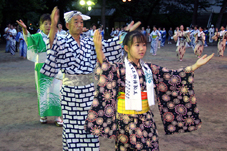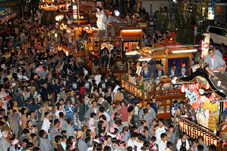 Karakasa-Mando

(15th August, Washi shrine, 1890, Obatake, Tsuchiura)
からかさ万灯
Karakasa Mando is a firework festival with a long tradition dating from the Edo period. Invoking a good harvest and family well-being, fireworks sparkle down like waterfalls from a big umbrella frame measuring 5 m wide and 6 m high. As an intangible cultural property, the festival represents summer in Tsuchiura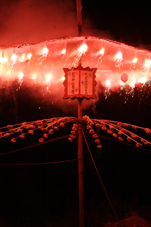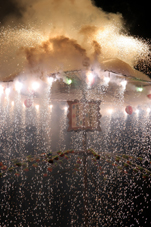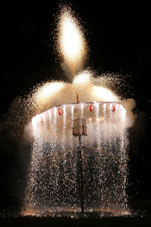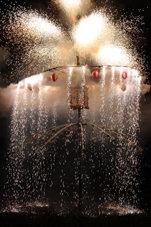 Manabe Festival

(late August, Manabe area)
真鍋のまつり
This festival has a long tradition in the Manabe area. Decorative floats and a lion spirit, representing each of the nine communities, parade through the area for three days. On the final day, all the floats meet together to present a joint performance, making an enthusiastic finale.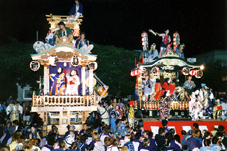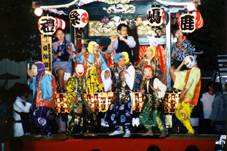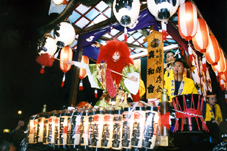 Moonlight Concert
(September, open spaces in the central city) ミッドナイトコンサート
Downtown shopping streets cooperate in a music concert to invigorate the local shopping districts.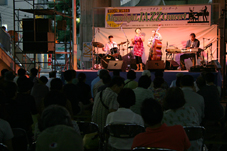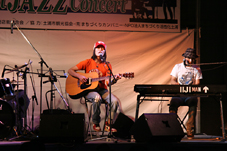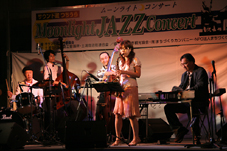 A traditional Noh play is performed by the light of bonfires at Tsuchiura Castle ruin (Kijo Park). The subtle and profound beauty of the wavering light against the darkness attracts audiences.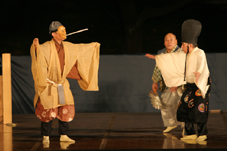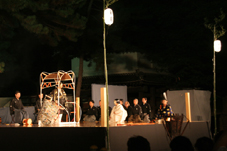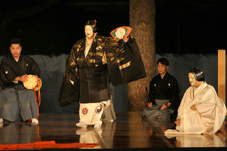 The All Japan Fireworks Competition dates from 1925. This competition is one of the three largest exhibitions of fireworks held in Japan. Firework artisans gather from all over Japan to compete for the championship in three types of firework: star mines, 10-go size (30 cm diameter) fireworks, and innovative fireworks. The sparks and sounds which showcase this autumn evening are amazing. As an opportunity for the artisans to exhibit their skills, this event increases its beauty year by year, fascinating the audience.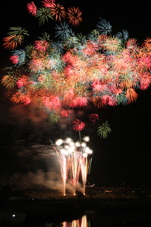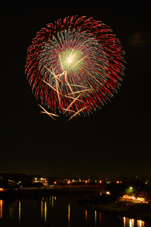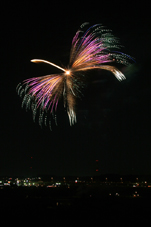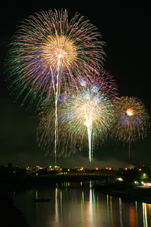 Children and parents enjoy playing with traditional toys, such as chopstick guns, bamboo helicopters, and origami.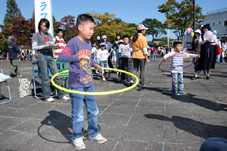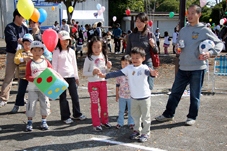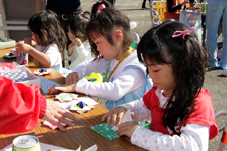 Tsuchiura Health Festival

(mid-October, Tsuchiura Health Center)
土浦市健康まつり
Information on illnesses and better health is provided at consultation booths. People can check their health by measuring bone density or participating in physical exercises.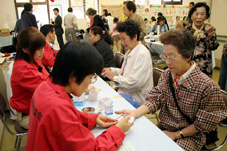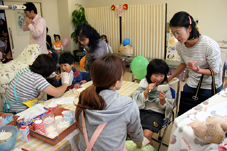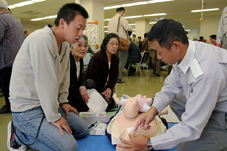 Tsuchiura Industrial Festival

(October, Kawaguchi Shopping Mall)
土浦市産業祭
All the industries in Tsuchiura, including commerce, manufacturing, agriculture, and tourism, participate in this festival. Exhibitions and spot sales are organized for the benefit of the people and to promote the various industries.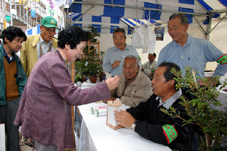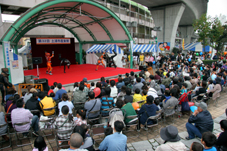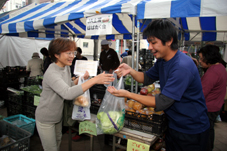 Renkon Cooking Fair

(November,hotels and restaurants in the city) れんこんフェアー
Tsuchiura is the biggest lotus root (renkon) production area in Japan. The cooking fair is held annually at hotels and restaurants in the city with the intention of fostering better cooking of renkon, which aids beauty and health, and promoting its consumption. Come and taste the wide variety of renkon cuisine created by the chefs.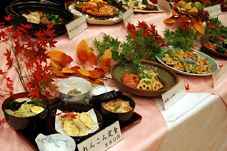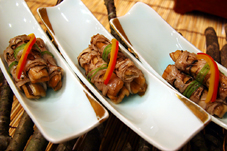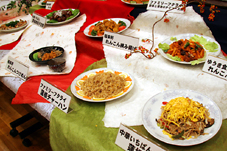 Tsuchiura Chrysanthemum Festival

(early November, Kijo Park)
土浦菊まつり菊花品評大会
Eight hundred chrysanthemum plants carefully grown by flower fanciers are exhibited and judged in four categories: pot-grown, cascade, bonsai, and cut flower. Plant sales are also held.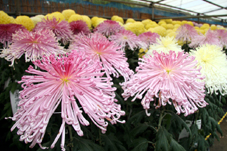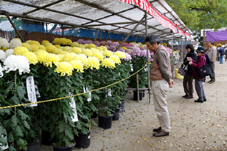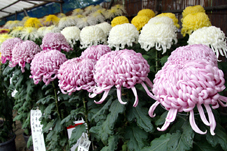 Tsuchiura Curry Festival
(November, Kawaguchi Sports Park) 土浦カレーフェスティバル
Aiming to invigorate Tsuchiura by making it the "city of curry," various groups, including restaurants, hotels, residents, and high school students, compete to invent an original curry, using the city's famous lotus roots and other local ingredients. Visitors to the curry festival can enjoy many kinds of curry.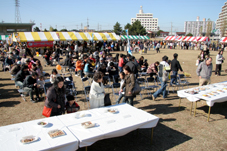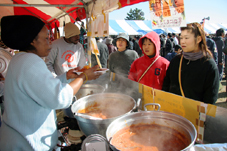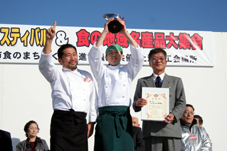 Winter Festival

(

early December to early January, around Tsuchiura Station and shopping streets)
ウィンターフェスティバル
The central city and shopping streets are decorated with colorful illuminations, creating a festive atmosphere

.To

revitalize the central area of the city, open spaces here hold regular events to introduce activities promoting local production for local consumption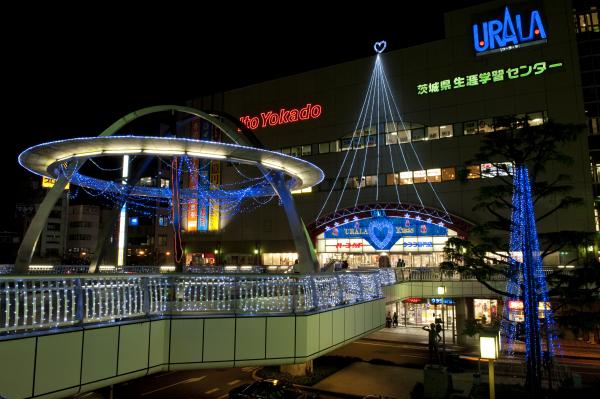 Tsuchiura Machinaka Genki Ichi Market
(2 to 3 times a year,open spaces in the central city) 土浦まちなか元気市
To revitalize the central area of the city, open spaces here hold regular events to introduce activities promoting local production for local consumption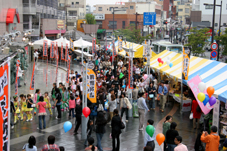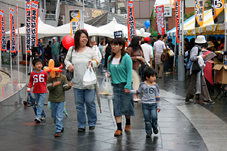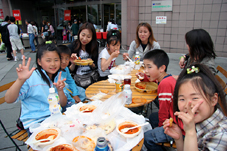 For more information, please contact the Tourism and Products Section, Department of Industry and Tourism.
Tsuchiura City Office (3rd floor), 9-1, Yamato-cho, Tsuchiura 300-8686
[TEL] 029-826-1111 begin_of_the_skype_highlighting 029-826-1111 end_of_the_skype_highlightingext. 2705, 2706
[FAX] 029-823-9220 begin_of_the_skype_highlighting 029-823-9220 end_of_the_skype_highlighting(common)
アンケート
土浦市ホームページをより良いサイトにするために、皆さまのご意見・ご感想をお聞かせください。
なお、この欄からのご意見・ご感想には返信できませんのでご了承ください。